We are developing enhanced therapeutics for specific cancers and cancer supportive care, infectious diseases such as HIV, influenza and coronavirus, and central and peripheral nervous system disorders such as Alzheimer's Disease, Multiple Sclerosis, Pain and Addiction. The status of our lead therapeutic products in development is shown in our product pipeline.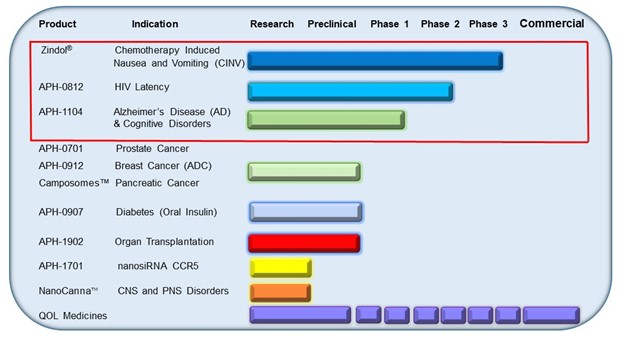 Zindol® is an enhanced ginger product that has successfully completed Phase II/III clinical trials for chemotherapy-induced nausea and vomiting (CINV). Zindol® also has potential applications in postoperative nausea and vomiting, pregnancy-related nausea and vomiting, and motion sickness nausea and vomiting [US Patent and International Patents Pending].
APH-0812 is a combination therapy consisting of protein kinase C (PKC) modulators with or without histone deacetylase (HDAC) inhibitors in a single nanoparticle. The PKC component of APH-0812 successfully completed a Phase I/IIa clinical trial in Spain [US and International Patents and Patents Pending].
APH-1104 is a potent alpha-secretase modulator, isolated from a marine organism, for treating Alzheimer's disease pathophysiology and cognitive impairment with neuroprotection [US and International Patents and Patent Pending].
APH-0701 is a nanosomal formulation of a unique Vitamin-D analogue for prostate cancer (PCA), designed to have increased antiproliferative effects while reducing systemic toxicity through increased specificity [US Patent].
APH-0912 is a combination of a Taxotere® prodrug and monoclonal antibody in a single nanoparticle targeted to treat metastatic breast cancer [US Patent].
Camposomes™ is a nanosomal formulation of Camptothecin, a potent topoisomerase I inhibitor, for colorectal and pancreatic cancers [US Patent].
APH-0907 is a nanotechnology formulation of insulin in biodegradable polymers that make insulin orally bioavailable through protection in the digestive tract and stomach, and delivery in the small intestine [US Patent, 2013].
APH-1902 is a therapeutic agent for improving kidney and liver transplantation by extending tissue preservation and preventing ischemia reperfusion injury [US Patents].
APH-1701 is a nanoencapsulation of a proprietary, synthetic CCR5-siRNA targeted to knock-down and eliminate HIV-1 in chronic HIV patients as well as prevent HIV-1 infection in naïve patients and re-infection in acutely infected patients [US Patents and Patents Pending].
NanoCanna™ are nanotechnology formulations of cannabinoids for treating opioid addiction, chemotherapy-induced peripheral neuropathic pain (CIPNP), CINV, Multiple Sclerosis and Epilepsy [US Patents and Patents Pending].
Quality-of-Life (QOL) Medicines are highly standardized dietary supplements, in terms of both chemistry and bioactivity, for health maintenance and wellness [US Patents].